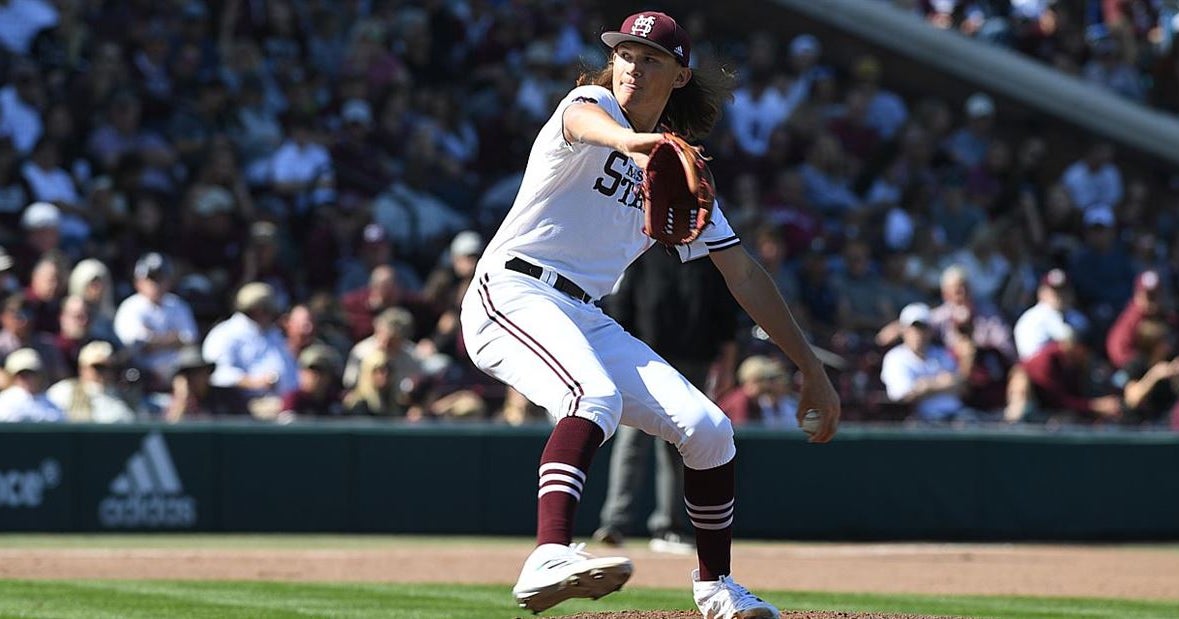 Tigers seal series with 4-3 win on Saturday
STARKVILLE — LSU didn't need a late attack this time A big swing in the first inning served, sending the Tigers to a 4-3 victory Saturday at Mississippi State. After Friday's Last Chance victory, LSU was able to win the weekend's SEC series, improving to 6-5 in the league and 22-9 overall.
The Bulldogs are 18-14 and fell another rung in the West Division at 4-7 with a third SEC series loss in four weekends. They're trying to salvage a split with Sunday's 1:00 rematch.
A three-run homer from Jacob Berry to just three batters in the top of the first inning gave LSU the momentum. Even after the Bulldogs came back to a midgame tie, it was immediately picked up by Jordan Thompson with a solo shot to open their sixth round. Four runs on two swings was enough, LSU's throw frustrating the home team's repeated chances to take control.
And there were chances. Mississippi State didn't just leave 12 runners on bases. Seven of them were leading to third or second base at the end of the innings. In fact, they've usually reached goal positions with just one out. "We don't drive in races", Coach Chris Lemonis mentioned.
The LSU pitcher deserved so much credit for leaving the dogs unmarked. Six Tigers teamed up to ground, starting with starter Blake Money. He worked the first 4.0 frames allowing all runs in the state on six hits with a walk and five strikeouts. The decision, however, fell to third pitcher Devin Fontenot (2-1) due to his record when Thompson broke the tie for good 3-3. He only had to throw a no-hitter inning, face four and strike out three.
A total of 15 Bulldogs were fanned with just three walks as LSU pitchers remained in the strike zone. Or, too often, state swingers bit on the offerings of the plate.
The unlucky loss went to reliever Brandon Smith (2-2). The Tigers chased the starter out of state Parker Stinnet before the end of the first inning, having faced six batters with two hits, two walks and thrown more balls than hits. A simple first walk and full count paved the way for Berry's outburst, his ninth homer of the season and the quick 3-0 lead.
A two-out walk completed Stinnett's start with Smith rushing into the action. It became a solid 6.0 inning stint with four hits and as many strikeouts, a walk and the game-breaking run on Thompson's ninth shot this spring.
The Bulldogs also went to court twice, each was a solo shot by RJ Yeager on Mississippi State's first at-bat and a Kamen James first homer in the fifth. Lemonis would have gladly traded either for a routine single with multiple RBI opportunities.
The fifth frame hurt the most. With loaded bases and a 3-3 tie pinch-hitter Matt Cordier fell swinging against Fontenot. LSU immediately made that lost opportunity worse with Thompson's first homer in the sixth. Smith continued in the seventh before the southpaw Pico Kohn took the ball the last 2.1 rounds with one hit and four strikeouts.
Down that run, State left Yeager at second base in their sixth half; Kellum Clark the first in the seventh; and Corder at third base in the eighth as the go-ahead Yeager was first. Closer Friday, Paul Gervase came in for the right-on-right match with James and won, coaxing a steal to the center before pulling Hancock out.
Gervase downed the team in the ninth inning as well for his second stoppage of the series and season.
Cade Doughty and Josh Pearson each had a pair of hits for LSU but did not score or drive in a run. The damage was done on those big shots from Berry and Thompson alone. Yeager accounted for three of State's nine safeties, while James hit safe twice, as did Hancock.
Mississippi State's last home series victory over its old foe was in 2003 as the 22-year-old Tigers extended their streak.