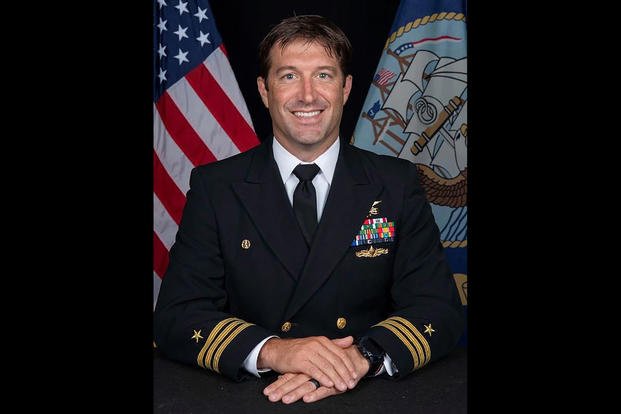 SEAL team commander dies after training accident
The commander of one of the Navy's elite SEAL teams died in a training accident in Virginia Beach, Va., On Tuesday, the service said on Wednesday.
Cmdr. Brian Bourgeois, 43, commander of the SEAL 8 team, was injured on December 4 in what appears to have been "a rapid tug of war development," according to a Navy statement.
Typically, "fast roping" involves personnel sliding along a thick rope from a hovering helicopter.
He died three days later at Sentara Norfolk General Hospital in Norfolk, Virginia.
Read more : National Guard stuck amid internal political wrangling, and it's getting worse
"Our thoughts and prayers are with the Bourgeois family – and we will ensure that our community sustains and nurtures a relationship with Brian's family and his children, for life," said Rear Admiral HW Howard III, Chief of the Naval Special Warfare Command, said in the statement. "His legacy continues with his teammates with whom he served, led and mentored. "
Bourgeois had a long career in the Navy which began with his commissioning in 2001 after graduating from the US Naval Academy in Annapolis, Maryland. He briefly served on a ship before unhooking his trident and becoming SEAL in 2006.
He served in various special warfare units throughout his career and won a Bronze Star with a "V" combat aircraft, among other accolades, according to his officially published service record.
The Navy said details of the crash were being investigated and the findings "will be made available at an appropriate time." In the meantime, the executive officer of the SEAL 8 team has temporarily assumed command of the unit.
SEAL team numbers, like the famous SEAL Team 6, were originally used to confuse potential enemies out of the total number of SEAL teams. There are over 10 groups within SEALs in the Navy which are loosely referred to as teams, typically made up of a number of platoons totaling about 300 people, including support personnel.
"We are working with SEAL Team 8 to provide all possible forms of support for Brian's family and teammates," Captain Donald Wetherbee, Commodore of Naval Special Warfare Group 2, said in the statement.
Deaths during training among Navy special operators are rare, but they have claimed 22 SEALs since 2001, according to records on file with the Navy SEAL Foundation, a nonprofit that supports families and veterans from the program.
One of the most recent, the drowning of Seaman James Lovelace in 2016 during training to become a SEAL, has raised questions about safety procedures.
Lt. Cmdr. Kara Handley, spokesperson for Naval Special Warfare Command, told Military.com in an email: "The Naval Special Warfare community takes security very seriously and conducts both a command and a security investigation. 'incident."
According to the Navy SEAL Foundation, Bourgeois is the first death in training since 2017.
– Konstantin Toropin can be reached at konstantin.toropin@military.com. Follow him on twitter @ktoropin.
Related: Navy SEALs resume training with restrictions after pandemic break
View full article
© Copyright 2021 Military.com. All rights reserved. This material may not be published, broadcast, rewritten or redistributed.