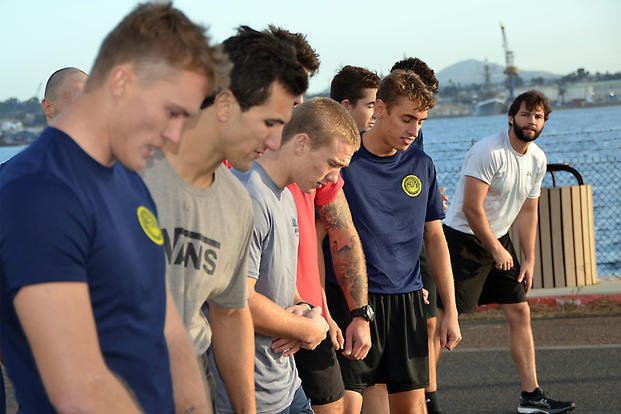 How to do a week of tapering before SEAL officer and PST selection?
The highly competitive SEAL Officer Assessment and Selection (SOAS) places candidates from the Naval Academy, Navy ROTC, Officer Candidate School (OCS) and other service academies and officers in the floats in the same selection group that will be competing for officer tickets to attend BUD/S.
These SOAS events take place during the summers in Coronado, California, and these officers and officer candidates get a taste of BUD/S for two weeks. Here is a question from a candidate who wants to maximize their Physical Screening Test (PST) scores, one of the program's objective scoring points.
Mr Smith I have an upcoming PST for my NSW [Naval Special Warfare] application next week. As you know, I have to crush this one to be selected at SOAS this summer. My scores are solid, but I want to make sure I'm doing my best. Do you have any tips on the best way to cut down, recover, and eat the week off for PST? Thanks Roger.
Good luck. It's a difficult process, and you only have one chance to pass this test. Throughout the SOAS process there will be many classified events. Fitness is one of the events where you have control over the results. Your leadership experience, academic grades, and community service will also be on the table for consideration.
However, the most difficult events will take place at SOAS itself. You will be assessed on your physical performance during a grueling week of BUD/S-type events, your ability to work as a team with other candidates, and then your ability to lead that team when you have them. the occasion.
During the interview process, your grade depends on your ability to communicate, your knowledge of current events, and your ability to explain to a group of SEAL officers and senior enlistees why you want to become a SEAL officer.
Your physical performance on the PST is important, but there are many other parts of SOAS that have very little to do with your physical performance.
Obviously, training and testing is always extremely physically demanding. To answer your question more specifically, here is a list of things to consider before taking an important fitness test.
1. Nothing new
Make sure you don't do anything new the week of the test and especially on the day of the test. Eat and drink as you normally would to recover from hard training days and to have energy the next day.
Also, don't try any new exercises or workouts this week. If you're planning on changing anything, make sure you get a good night's sleep every night of the week. See the importance of sleep.
2. 4-5 days after testing
Let's say you take your fitness test on a Friday. Four or five days (Monday and Tuesday) can be your normal workouts, but they should focus on PST-related events, not maxing out a heavy rep or some other form of cardio.
You should run, swim, and do upper body calisthenics (push-ups, sit-ups, pull-ups, dips) one day, and the other day can be leg-based calisthenics (squats, lunges) mixed in with running at your target pace for timed runs. No need to ruck or swim with fins today, as normal leg days can be supplemented with rucking or swimming with fins.
3. 2-3 days before the test
By Wednesday, plan to do a typical mobility day where you can get some good non-impact cardio mixed with stretching, foam rolling, and massage spread throughout the workout. Some will even do another mobility day the day before the test, just to stay relaxed and get the lungs working, but the general goal is to rest and work through any aches or pains that may be bothering you this week.
4. The day before the test
You can take a day off or do a simpler version of Mobility Day. Sleep well, eat a good meal with good carbohydrates (fruits, vegetables, whole grains), lean choices of protein and good fats (fish, olive oil, nuts, etc.).
See my related podcast with Army Nutritionist Lt. Col. Nick Barringer on his recommendations for pre-game energy: Fitness Test Nutrition Podcast.
To note: Your meals today should really not be very different from those of the previous days. Avoid new foods. No need to try something new tonight only to find it doesn't work for you and disrupt your sleep all night.
5. Test day
Again, don't try anything new. That means no new "energy drinks" and avoiding too much caffeine, as it can elevate the heart rate too much, depending on your caffeine sensitivity. Butterflies can start today, so do things like controlled deep breathing to relax.
Once the swim starts, the nervousness tends to go away and you can focus on your target pace for the events and give your best. See PST Policies. There is also a podcast on the subject.
Call it a PST Taper Week or a few easy days before the PST. When you have a chance to score well, you need to be at your best because the process is competitive.
After the test, you have a few months to prepare for SOAS, so maintain your optimal PST scores (or improve them, if necessary) and start working on other events, such as longer races, rucks and swimming with flippers for your cardio. You'll be making logs and boats, so your strength and muscular endurance are also important. You don't want to get crushed under the weight of these objects when testing.
Stew Smith is a former Navy SEAL and fitness author Certified as a Strength and Conditioning Specialist (CSCS) with the National Strength and Conditioning Association. Visit his Fitness eBook store if you're looking to start a workout program to create a healthy lifestyle. Send your fitness questions to stew@stewsmith.com.
Want to learn more about military life?
Whether you're considering joining the military, looking for basic fitness and training tips, or keeping up with military life and benefits, Military.com has you covered. Subscribe to Military.com to receive military news, updates and resources straight to your inbox.
Show full article
© Copyright 2022 Military.com. All rights reserved. This material may not be published, broadcast, rewritten or redistributed.