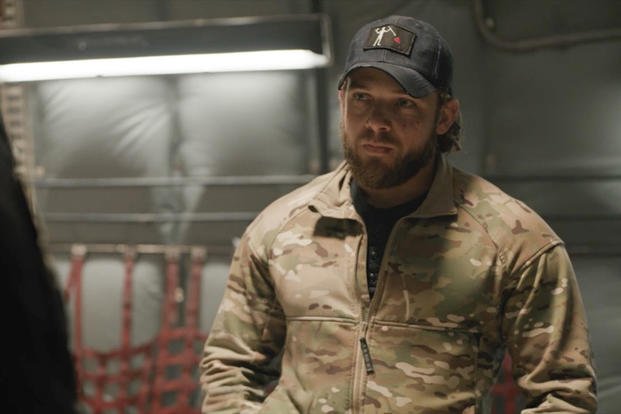 Did 'SEAL Team's Clay Spenser Survive Season 5 Shootout?
Season 5 of the Paramount+ drama "SEAL Team" ended with a cliffhanger, as the team was ambushed while on a mission in Mali. Clay Spenser (played by Max Thieriot) and Jason Hayes (David Boreanaz) were injured and viewers were unsure if they would survive.
The episode also featured scenes from a baby shower for Clay's wife, Stella (Alona Tal). Their son, Brian, was born healthy, and Clay also worked out his differences with Sonny Quinn (AJ Buckley) before going on a mission. Before the team went on a mission, Clay told Jason that this would be his last mission, as he wanted to spend his time with his wife and new son.
Hayes and Spenser were hit just before the episode ended. Jason took one in the shoulder and Clay took shrapnel in the eye. When the episode aired, it was unclear if the show would be renewed for season 6, and this scene might have been the last we saw of "SEAL Team."
Much of the cliffhanger was quickly resolved when Paramount+ announced the show would be returning. Fans can now look forward to another chapter in "SEAL Team" history, though it was unclear if Hayes and Spenser would survive to be a part of it.
Related: 'SEAL Team' lives to fight another day, will return for season 6
Since David Boreanaz is the undeniable star of the show and also one of its executive producers, chances have always been good that he will return alive. Boreanaz has been a TV series lead this century, first on the "Buffy the Vampire Slayer" spin-off "Angel," then on the FBI's "Bones" procedural and straight into "SEAL Team." ".
Thieriot is now rumored to star in the CBS pilot "Cal Fire" as Bode Donovan, a man who seeks to shorten his prison sentence and find redemption by joining a firefighting crew in his northern hometown of California.
The project has personal meaning for Thieriot, who grew up in California fire country, came up with the idea for the series and co-wrote the pilot script. He will be joined by Billy Burke ("Twilight") as the city's fire chief, and Kevin Alejandro ("Lucifer") as the captain in charge of inmate firefighting detail.
The fact that Thieriot is cast in this pilot does not necessarily mean that Spenser died in this shootout. If CBS doesn't like "Cal Fire" enough to order it as a series, "SEAL Team" could bring Spenser back in at least one recurring role.
If you're a Clay Spenser fan, it's probably best to start your mourning now. The "Cal Fire" premise sounds promising, and Thieriot shares many of the qualities that have made Boreanaz such a big star over the past two decades. It's no surprise that CBS is trying to build a show around the actor.
CBS will announce its lineup of fall series in May. It's not yet known when "SEAL Team" might return to Paramount+ or when the show plans to begin production on Season 6. We'll let you know once we have more information.
Follow the best of military entertainment
Whether you're looking for news and entertainment, considering joining the military, or following military life and benefits, Military.com has you covered. Subscribe to the Military.com newsletter to receive military news, updates and resources straight to your inbox.
Show full article
© Copyright 2022 Military.com. All rights reserved. This material may not be published, broadcast, rewritten or redistributed.