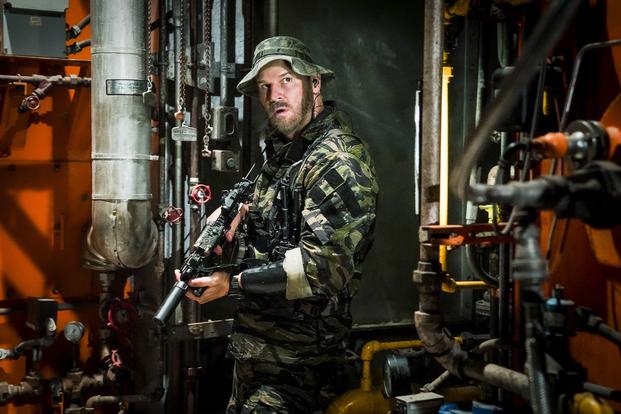 Change is definitely coming to "SEAL Team" for Season 6
News continues to leak regarding "SEAL Team" Season 6, currently filming, which is set to premiere later this year or in early 2023 on Paramount+. The end of last season was a cliffhanger after the team was attacked while on a mission in Mali, with uncertainty over whether everyone survived the ambush.
The deadline has reported that a new SEAL character will join the series. Omar is a senior chef with 15 years of experience as a SEAL. He is the son of Syrian immigrants, which apparently gives him a deep understanding of Middle Eastern cultures and gives him an edge on missions in that region.
Omar is played by Raffi Barsoumian, best known for his role as Warrant Officer Rami Ahmadi in the CBS military legal drama "The Code," which aired for one season in 2019. He has also had roles in the CW series " The Vampire Diaries" and "DC's Legends of Tomorrow." He appeared on stage opposite Tom Hanks in "Henry IV" at the Shakespeare Center in Los Angeles.
Related: 'SEAL Team' Star Max Thieriot For Double Duty With New CBS Show 'Fire Country'
SEAL Clay Spenser's fate is up in the air after taking shrapnel in the eye during the cliffhanger episode at the end of season five. Spenser told Jason Hayes (David Boreanaz) he wanted to quit the team after the Mali mission, and now actor Max Thieriot is starring in a new CBS series called "Fire Country." "SEAL Team" producers insist Thieriot is returning for Season 6, but they haven't said anything about whether it will be a brief goodbye or if Spenser will continue as a series regular.
Now, there's also a fan theory floating around that SEAL Trent Sawyer is also done with the team and won't be returning. Sawyer is that rare military character who is played by a true veteran, in this case former Army Ranger Tyler Grey.
Related: Why ex-Army ranger Tyler Gray is working with a 'SEAL team'
According to a article in the British tabloid The Express, Gray left the show. Their origin? A conversation between former Green Beret and Black Rifle Coffee CEO Evan Hafer and Army Special Forces veteran Mike Glover about the Podcast Hot deleted.
Glover tells Hafer that Gray "don't do the Navy SEAL thing anymore" and eventually reveals that "The Terminal List" author and former Navy SEAL Jack Carr told Glover that Gray "now does something else".
Thing is, Trent Sawyer didn't appear in the back half of 'SEAL Team' season five, but a close look at Grey's Instagram account reveals that the 'SEAL Team' showrunner gave him a pass to film a role in 'Kandahar,' an upcoming military thriller from the team of actor Gerard Butler and director Ric Roman Waugh, who have already worked together on "Greenland" and "Angel Has Fallen."
Related: How director Ric Roman Waugh brought veteran issues to 'Angel Has Fallen'
Is "Kandahar" "something else" Gray was doing? If so, will he return to "SEAL Team" in Season 6, or has Gray left the show? It's yet another cliffhanger to resolve when the series finally returns to Paramount+.
Follow the best of military entertainment
Whether you're looking for news and entertainment, considering joining the military, or following military life and benefits, Military.com has you covered. Subscribe to the Military.com newsletter to receive military news, updates and resources straight to your inbox.
Show full article
© Copyright 2022 Military.com. All rights reserved. This material may not be published, broadcast, rewritten or redistributed.