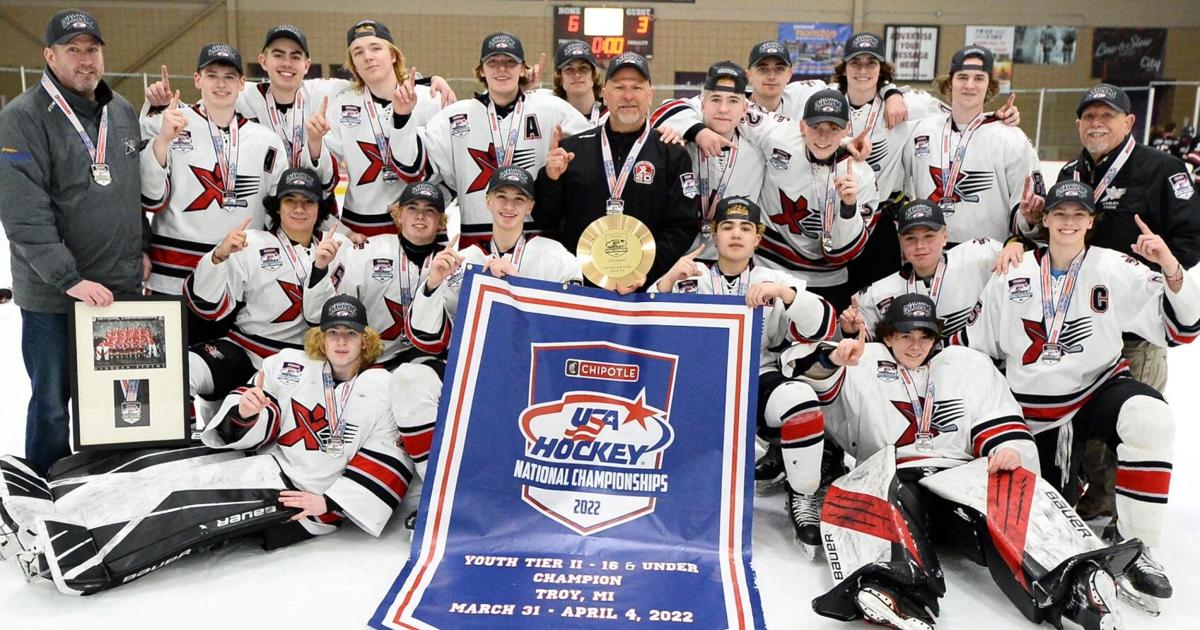 Ashburn Xtreme 16U skates to second straight US National Hockey Championships title | Sports
Ashburn Xtreme 16U head coach Brian Fleury praised his team's cohesion ahead of the 2022 Chipotle-USA National Hockey Championships.
"It's definitely something they did together," Fleury said after the Xtreme won their second straight trip to the national tournament. "It's a real group effort. It's pretty impressive and I'm so proud of them."
Using that same team-first approach, the Xtreme proved up to the challenge of repeating as a national champion.
With 16 players counting the score and two goaltenders picking up wins, the Xtreme defeated each of their six opponents to claim their second straight USA Hockey Youth Tier II 16U 2A tournament championship.
The Xtreme took a 3-0 lead and never trailed on their way to a 6-3 win over the previously undefeated Maine Gladiators in the tournament championship game April 4 in Michigan.
Will Schneider had a hat trick and Will Mellen made 25 saves in goal to help the Xtreme take the win by three goals. After the Gladiators cut the deficit to 4-3 with 9:58 left in the third period, Paul Allison and Jarrett Ireland found the back of the net to seal the win.
The Xtreme won each of their three pool matches by two or more goals to finish top of their group and earn a spot in the elimination round.
In the quarterfinals, the Xtreme took a four-goal lead and held off a late charge from the Utah Golden Eagles to secure a 5-4 victory. The Xtreme followed that up by beating the Atlanta Fire 5-2 in the semi-finals to clinch their ticket to the championship game.
The Xtreme scored at least five goals in each of their six games to finish with a tournament-best 38 goals, 15 more than any of the other 15 teams in the competition.
Schneider scored 10 goals to pace the Xtreme, while Landon Street provided 10 assists. Mellen had four wins in goal and Luke Risacher protected the goal in two wins – highlighted by his 25-save performance in the semi-finals.
Kyle Tinschert, Shane Siwik, Joseph Greenlund, Aidan Harrison, Mason St. Onge, Matthew Johnson, Grayson Cantarella, Jack Kline, Dylan Osterberg, Noah Robinson, Spencer Combs and Myles Blest joined Schneider, Street, Allison and Ireland to score goals and/or providing assists during the tournament.
The Xtreme – ranked second among Tier II youth hockey organizations in the country – won its third national championship in the past two years and fifth overall. Both the 18U and 16U Xtreme teams won national titles in 2021.
Ashburn Xtreme 6, Maine Gladiators 3
Ashburn Xtreme 5, Atlanta Fire 2
Ashburn Xtreme 5, Utah Golden Eagles 4
Ashburn Xtreme 9, Manchester Flames 7
Ashburn Xtreme 8, Nashville Flyers 5
Ashburn Xtreme 5, Houston Wild 2