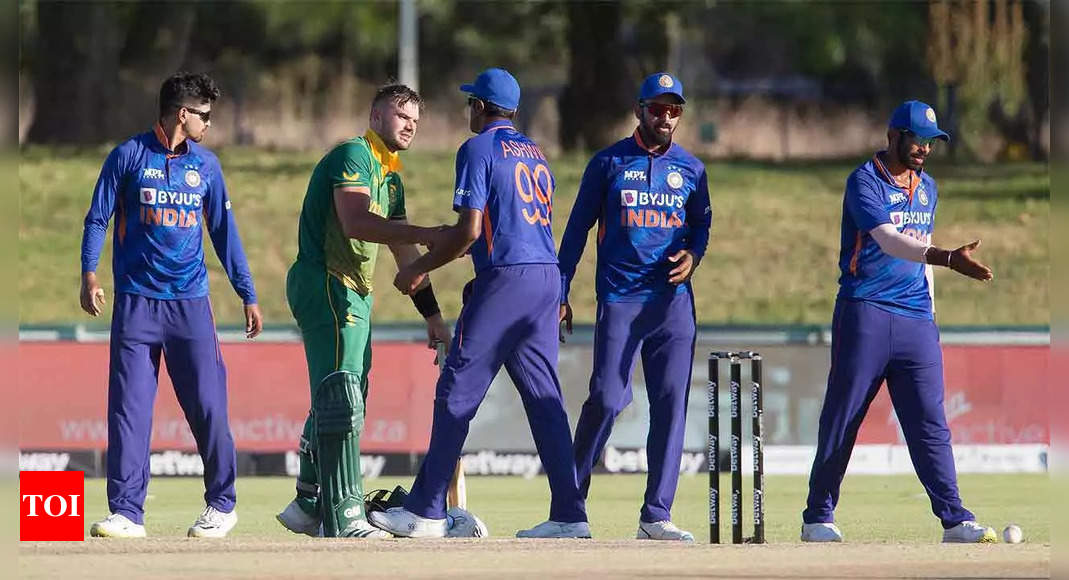 2nd ODI: Clinical South Africa pounces on apathetic India to seal the series | Cricket News
Heroic pants in vain as bowlers disappoint
This definitely turned out to be one of the worst overseas tours of India in recent times. They put on a slightly better show with the bat, but were again pathetic and listless with the ball, as they went down to dominating South Africa by seven wickets in the second ODI at Boland Park in Paarl on Friday night .
The 2-0 defeat in favor of Proteas saw them lose the ODI series with the last game still to be played in Cape Town on Sunday. After the 2-1 loss in the Test series against the hosts, this hugely disappointing result marks another low for new India coach Rahul Dravid on his first overseas assignment.
HOW IT HAPPENED
|
SCORECARD
Choosing to bat after winning the toss, India lost 'former captain' Virat Kohli for a rare ODI duck but finished 287 for six thanks to a blazing shot from Rishabh Pant (85, 71b, 10zx4, 2×6), a "calm" 55 by substitute captain KL Rahul (55, 79b, 4×4), and a fine full-back, unbeaten seventh wicket from 48 between Shardul Thakur (40 not out, 38b, 3×4, 1×6 ) and Ravichandran Ashwin (25 steps out, 24b, 1×4, 1×6).
Still, with Pant coming out at the wrong time, widening too long in view of a century, in the 33rd India finished around 30 runs short, especially given their bowling issues.
Chasing 288, the Proteas got a perfect start by openers Janneman Malan (91, 108b, 8×4, 1×6) and Quinton de Kock (78, 66b, 7×4, 3×6), who added 132 in as many balls for the first wicket .
After de Kock, who punished Indian bowlers at will, lost lbw trying to throw a full pitch from Shardul Thakur, Malan added 80 from 76 for the second wicket with in-form Proteas skipper Temba Bavuma (35, 36b, 3×4) to maintain momentum.
Jasprit Bumrah trapped Malan with an off cut, and Bavuma was caught and knocked down by Yuzvendra Chahal, but Aiden Markram (37 not out, 41g, 4×4) and Rassie van der Dussen (37 not out, 38b, 2×4) – who scored a hundred in last game – finished the job for South Africa with little fanfare, adding 74* for the fourth wicket on 75 balls to take them home in the final.
While nearly all of the bowlers seemed to be just jumping into action, the worst of them were the most 'experienced' of them – setter Bhuvneshwar Kumar (0-67 in 10 overs) and non-spinner Ravichandran Ashwin (0-68 in 10 overs).
The only positive for India from the game was provided by Pant, who beat their career-best score in the ODIs. His stroke reflected the growth of a batsman who was repeatedly criticized for playing the wrong stroke at the wrong time. Pant started on an angry note, outpacing the first ball he faced, which luckily fell past the slide, as he rolled down the track to Keshav Maharaj. When he was at bat on 3, he got involved in a horrific mix-up with Rahul, who saw both batsmen at the same end. Although he was lucky to survive as Maharaj failed to recover the throw from the non-attacking side, Pant invited a glare from Rahul.
He did well, however, to quickly put those glitches aside, starting his familiar "entertainment pack", which included 10 fours and two sixes, by sweeping Maharaj for a six in the middle of the deep wicket. As Rahul struggled to pick up the pace, it was the southpaw who broke the shackles of the spinners.
1/seven
In photos: Magnificent Malan leads South Africa to ODI series victory over India
Show captions
Fly-half Janneman Malan scored 91 as South Africa chased a winning target of 288 for a comfortable seven-wicket win over India and an unassailable 2-0 lead in the three-game series after the second One-Day International at Boland Park on Friday. (AP Photo)
The southpaw's dominance in his 115-point stand with Rahul can be gauged by the fact that when the stand reached 100, Pant's contribution was a grand 74!